Hillhead 2012- Vulcan Burners turn up the heat!
July 4, 2012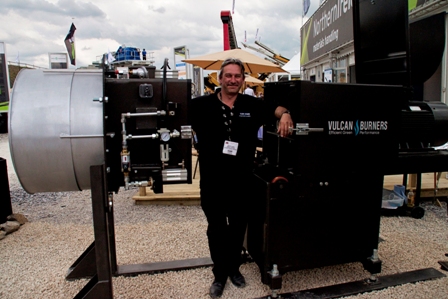 Asphalt Burner Services would like to thank everyone who visited their stand at this years show at Hillhead. ABS exhibited at the show to officially launch the new innovative Vulcan Burner range which has proven to be an outstanding success.
In the last year, there has been huge interest in the new burner range, and with the results that have been achieved, there has been a buzz within the industry.
Industry minded people visited the stand from both national and international markets, where they were able to see the burners on display and discuss their own requirements with both the engineering and sales team.
Asphalt Burner Services are delighted to announce that they have secured several orders during and after their presence at the quarrying show in Buxton, whilst they are also looking forward to seeing further results from these sales!
Martin Gandy (Engineer Dept.) explains "We are very pleased with the high turnout of visitors to the stand during the 3 days of the show, it has been very busy but extremely enjoyable welcoming existing and new customers to the stand. The Vulcan burner is leading the future of asphalt production plant design. New concepts that focus on energy efficiency and low emissions but keeping the design simple for the end user with key aspects such as low maintenace and easy access. The Vulcan range is the new generation of asphalt burners."
If you are interested in the new product range or would like to make an enquiry, please contact Jodie Lewis on jodie.lewis@burnerservices.net or visit our website on www.burnerservices.net